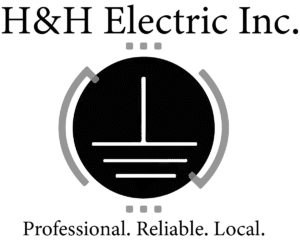 H&H Electric, Inc.
Family owned and operated since 2004, H&H Electric is dedicated to providing helpful, reliable service to residential and commercial clients alike.
Learn More
Contact Us
We are ready to serve the greater Sacramento area any time of the week, day or night.
Call today to schedule an estimate, we pride ourselves on providing competitive pricing, great service and quick response on all our jobs.
Our reputation for integrity, quality and expertise have made us Sacramento's go to Electrical Contractor.
Anything from short service calls, to ongoing projects. No job is too big or too small.
Our clients include:
Our clients include Architects, General Contractors, Real Estate Agents, Property Management companies, Bank/REO Asset Management companies, individual homeowners, and local business owners. The bulk of our business comes from repeat and referral clients.
Residential and Commercial Electrical Contractor
We are a local Residential and Commercial Electrical Contractor serving the greater Sacramento area and our number 1 goal is to meet and exceed your expectations. We have been licensed since May 2004 and incorporated since April 2005. We are a family owned and operated business. H & H Electric, Inc. is a proud member of the National Association of the Remodeling Industry (NARI) and as well as the Northern California Better Business Bureau (BBB).
What We Do
Update electrical panels
Home rewiring – Based on the National Electrical Code and the National Fire Protection Association
Installation of dedicated appliance circuits – to ensure safe operation of all appliances and to prevent overloading the system
Installation and replacement of fuses and circuit breakers – to ensure safe levels and current electrical flow
Installation of ceiling fans
Installation of electric vehicle charging stations (EVC)
Replacement of electrical outlets and switches
Design, installation, and maintenance of landscape lighting
Installation of Recessed lighting and fixtures
Surge protection
Electrical troubleshooting and repair
Emergency electrical service calls
POWER UPGRADES
Rewiring
Lighting Installation
EV Charger Installation
Circuit Breakers And Fuses
Troubleshooting
Meter Conversions
Smoke Detectors
Exit Signs & Emergency Lights
GFI Receptacles
Code Corrections
Recessed & Track Lighting
Dedicated Electrical Circuits
Landscape Lighting
LED Lighting
Plugs, Switches, Dimmers, etc…
Motion Detectors, Photocell Controls, And Timer Switches
Flat screen TV Installations
Security Camera Installations
Knob and Tube Wiring Replacement
Title 24
Cat 5 Wiring & Cat 6 Wiring and Data Cabling Installations
EV Charger Installation
Ceiling Fan Installation
Smoke Detectors
Electrical Troubleshooting
House Rewiring
ELECTRICAL PANEL UPGRADES, REWIRING & MORE
Electrical Upgrades
Service Panels
Recessed Lighting
Track Lighting
Emergency Generators
Low Voltage Switching Systems
Security Lighting
Smoke Detectors
Power for New Appliances
Ceiling Fans
Electrical Additions
Lighting Systems and Controls
We love to showcase our work. Take a look at some of our recent projects and explore some of the things we have done for our customers.
Service Area
Dedicated to serving the greater Sacramento area with quality electrical repairs, service, installation, and upgrades. Contact us today for a free, no obligation quote for your electrical project.
"Nick will be my first call for any electrical issues in my future. He returned my call promptly, arrived on time and gave me a frank evaluation of my home's system. Personable, professional and knowledgeable."
"We had just a few badly needed updates and electrical repairs in two rooms in our house. Not a big job – but still a bit beyond our abilities. We called a few places for quotes. Nick at H&H got back to us quickly. While it took a bit of back and forth to get him to the house for the quote, once he arrived, he was professional, polite and thorough. We set a time for the work. He arrived with a crew of two – got them started and departed. The guys were very polite; worked quickly; finished the job in the time promised; and cleaned up after themselves. Nick returned to check on them and also at the end of the job. We required just a bit of finishing drywall/sheetrock work, and Nick was able to suggest a guy for that as well. We are very pleased with the work and with everyone at H&H Electric. We would not hesitate to use them again or to recommend them to others."
"This is a long overdue review for Nick, the owner of H & H Electric. I am a Realtor and I have been using Nick for over 10 years to do inspections and repairs, both minor and major. In the beginning, we had to run his bids thru asset managers for foreclosure properties we managed, and they never hesitated on the cost. He has always shown up on time and worked very well with all our clients. Personally, I would never question his knowledge and expertise. He and his employees really know what they are doing. He will always take the time to explain an issue in layman terms, so our clients understand the problem. Because of the nature of our business, we have dealt with so many service personnel over the years and frankly, if they are not serving our clients well, I move on. When it comes to Nick, I can honestly say and would stake my reputation on this, he is always honest and never tries to do a repair or upgrade that is not necessary and knows what he is doing. Great honest, reasonably priced service personnel are hard to come by today. You will not be disappointed if you hire Nick of H & H Electric out for any of your electric needs."
Get in touch with us anytime to request a quote or discuss your project.
10417 Fair Oaks Blvd
Fair Oaks, CA 95628
Service Area
Dedicated to serving the greater Sacramento area with quality electrical repairs, service, installation, and upgrades. Contact us today for a free, no obligation quote for your electrical project.
Acampo | Amador County | Antelope | Arden-arcade | Auburn | Brookside | Cal Expo | Cameron Park | Campus Commons | Carmichael | Citrus Heights | Cool | Courtland | Curtis Park | Davis | Del Paso | Diamond Springs | Dixon | East Sacramento | El Dorado | El Dorado County | El Dorado Hills | Elk Grove | Elverta | Esparto | Fair Oaks | Fairfield | Florin | Folsom | Fruitridge | Fruitridge Manor | Galt | Gold River | Greenhaven | Herald | International Airport | Ione | Isleton | Land Park | Lincoln | Lodi | Loomis | Marysville | Mather | Mcclellan | Meadow Vista | Meadowview | Midtown | Natomas | Newcastle | North Highlands | North Sacramento | Oak Park | Old Sacramento | Olivehurst | Orangevale | Parkway-south Sacramento | Placer County | Placerville | Rancho Cordova | Rancho Murieta | Rescue | Rio Linda | Rio Vista | Rocklin | Rosemont | Roseville | Sacramento-downtown | San Joaquin County | Shingle Springs | Solano County | Suisun City | Sutter County | Vacaville | Vintage Park | Walnut Grove | West Sacramento | Wheatland | Wilton | Winters | Woodbridge | Woodland | Yolo County | Yuba City | Yuba County